Overview
Nestled in the serene Moshav Sde Eliezer in Israel, Isravilla offers a secluded retreat on approximately 1.5 acres (6 dunam) at the foothills of Mt. Eliezer. With its breathtaking view encompassing the Golan and Galilee mountains, this property is a true haven for tranquility seekers.
Challenge
To ensure a seamless experience for potential clients, Isravilla faced the challenge of addressing numerous inquiries regarding the location, amenities, nearby activities, and the number of beds per section. This resulted in a high volume of repetitive questions flooding their email inbox.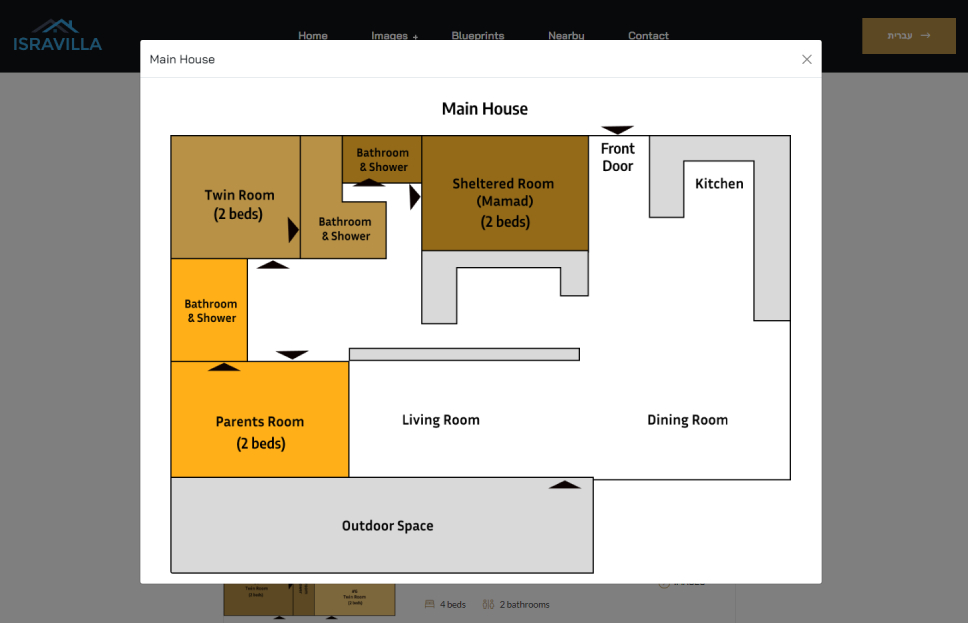 Solution
In order to tackle this issue, AK Launch took charge and developed a comprehensive website for Isravilla. The website incorporates a map of the retreat, providing visitors with a visual representation of the property layout. Additionally, detailed section-specific maps are available, specifying the exact number of beds in each bedroom and section.
The website is designed to cater to both Hebrew and English-speaking audiences, ensuring accessibility for a wider range of potential clients. It features a user-friendly interface, clearly presenting a list of amenities available at Isravilla. This allows clients to gain a comprehensive understanding of the facilities provided, further aiding them in their decision-making process.
To enhance the experience, the website also includes a curated list of nearby locations, perfect for day trips and exploration. Clients can easily access this information, empowering them to plan their activities and make the most of their stay at Isravilla. By building a well-designed and informative website, AK Launch successfully alleviated the burden of repetitive inquiries and provided potential clients with a convenient and accessible platform to obtain all the necessary information about Isravilla. This not only streamlines the booking process but also ensures that clients have a seamless and personalized experience from the very beginning of their interaction with Isravilla's offerings.